Enjoy the quietness of the African bush while the impala's, waterbucks and warthogs roam through your garden and in the background you can occasionally see the elephants drink from the water hole. Take a sundowner on your own terrace, listen to the birds and watch the magnificent sunset or the African stars while the children play in the private swimming pool…. a magical experience.
Welcome to Umoja! Swahili for 'the spirit of togetherness'.
This magificent bushvilla is situated on on Silonque Nature Reserve, where animals roam freely, adjacent to and with a view at the Kruger Park. On the neighbouring estate you will find an additional swimming pool and simple tennis court, and a view tower over the Kruger park. You can order your additional breakfast here on site. (We can offer you a breakfast pack, a BBQ pack or lasagne meal for the first day). Hoedspruit Airport with daily flights to Johannesburg and Cape Town is located at only 80 km.
This unique holiday home is located in the North-East of one of the most beautiful parts of South Africa, in the Limpopo province on the outskirts of Phalaborwa (town of two summers). Phalaborwa got this name because you can enjoy beautiful sunny weather and nice temperatures the whole year around. The south African summers (nov/jan) are warm and humid, the winters (jun/aug) are sunny with mild temperatures and cool nights. The small town of Phalabowa has some nice restaurants, a golf course, and – contrary to Hoedspruit – has a direct entrance to the world famous Kruger Park via the Phalaborwa gate.
We can book you a Kruger park guided safari with a ranger (private or joined), a boatsafari, a bushbraai in a Big 5 Game reserve or a walking safari. Whether you have never been to Kruger park before or you have are experienced, or you are a birdlover: you will always enjoy this.
The villa is conveniently located for a variety of excursions and daytrips, the beautiful Panorama route (Three Rondavel Viewpoint), ziplining and a picnick along the waterfalls at the Magoebaskloof , a bootcruise on the Blyde river, or a visit to one of the Wildlife Rehabilitation Centers in Hoedspruit, all can be reached within 1,5 hrs drive.
The ideal place to base your stay while visiting some of South Africa's highlights from one location or for a shorter stay during your trip through South Africa, impressing all types of travellers. You can book from1 night although we highly recommend a minimum of 2 nights. Enjoy the luxuries of a hotel like towels, linen, laundry service (€- no washing machine in the house) and the possibility of breakfast at a neighbouring estate but with the added privacy and benefits of a home. Not only will you be able to reach us 24/7 but our local housemanager is also at our disposal.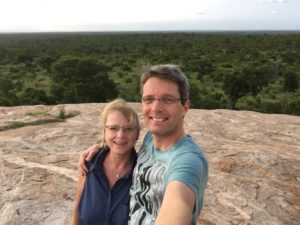 Check out our prices and availabilities and if you have any questions; don't hesitate to contact us. We hope to welcome you soon to your little gem in the bush!
Chantal & Serge Settels